General
What is Solarize?
Solarize is a grassroots community-based outreach event to make going solar easier and more affordable. LEAP and other local partners have organized to provide a one-stop shop for education, installations, and financing for your solar project. Solarize will use concepts such as bulk purchasing and free solar site assessments to make the process easy and affordable.
How will Solarize bring down the price?
The foundation of this program is community engagement. As members of a community rally behind solar, the installers are able to lower their prices. This is a result of bulk purchasing, offset marketing expenses, reduced travel expenses, and the guarantee that solar installation crews will be kept busy. In addition to the reduced price produced by Solarize's economies of scale, LEAP will help you access a 30% federal tax credit, affordable financing, and navigate the Solar Renewable Energy Credit (SREC) market.
How are Solarize installers selected?
A competitively based Request for Proposals was released and distributed to many of the area's best solar installation companies. LEAP reviews all proposals and selects the contractor(s) based on competitive pricing, quality of equipment/systems/warranties, and overall experience and qualifications working in the local region.
Do Solarize participants get to select their installer?
Only the selected installer is working with the campaign to offer the special pricing and other assistance.
Will my HOA allow solar panels on my roof?
In 2014, legislation was passed in the state of Virginia stating that an HOA may not outright restrict the installation of a solar power system, but are entitled to "reasonable restrictions" such as size, place and manner of of placement. For more information, please visit MDV-SEIA's Guidelines for HOA's on Solar Installations in Virginia.
What to expect when joining Solarize?
By joining Solarize, you will receive a free solar site assessment performed by a participating Solarize solar installer. After your solar site assessment, your installer will provide you with a proposal tailored for you, your budget, and your home's energy needs. Once you receive your proposal, you will have a specified period of time to make a decision on signing the contract. Solar installers will also be tasked with handling all of the technical details, including permitting, utility interconnection, design, and installation. After the Solarize campaign period, the Solarize discount will expire and installers will revert back to original market prices.
Finance
Is there any financing available for Solarize participants?
Through a partnership with Admirals Bank, all Solarize participants will be eligible to apply for the Solar StepDown and Solar Plus Loans. These loans are designed specifically for solar energy projects and include 0% interest financing for up to 30% of your project over 18 months and another $25,000 over 20 years at competitive interest rates between 4.59% – 9.95%.
We also encourage participants to consult their local financial institutions for other financing opportunities.
Will electricity payments rise in the future?
Your monthly payments for solar will never increase, protecting you from utility rate increases. And you can expect your system to perform efficiently for 25 years or more, providing you with decades of free electricity.
One of solar power's many advantages is that the sun will always be free. It's like buying a house instead of renting an apartment. Your mortgage won't ever change, even as landlords constantly increase their rents. Once your panels are installed, you never have to worry about the price for your solar PV system going up.
Location
Does Virginia receive enough sunlight for solar to make sense?
Virginia receives almost as much solar radiation as Miami does on an annual basis. Here is a map of the United State's solar potential from the National Renewable Energy Laboratory to prove it.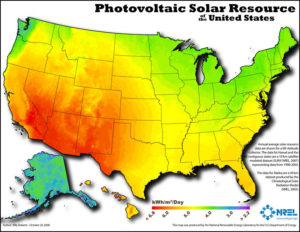 Is solar right for all homes?
LEAP and participating Solarize installers will need to check the roof of your home for structural soundness, orientation to the sun, shading, and other details. Unfortunately, solar doesn't work for every situation. Even if solar is not a good fit for a home, LEAP can help determine a plan for reducing energy bills and increasing the health, comfort, and value of a home through energy efficiency.
Technology
What is an inverter?
Your solar panels generate direct current (DC) electricity. The DC electricity travels to your solar power inverter, which converts it into the alternating current (AC) electricity used to run your home's appliances.
What are the warranties?
Solarize solar panels have a 25-year power output warranty. Inverters are warranted free of defects for at least 10 year and mounting systems are warranted free of defects for at least 5 years. Participating Solarize solar installers will also provide a minimum of 10 years on all installation labor, if not so covered by the manufacturers' warranties.
What is net metering?
Net energy metering is a special metering and billing agreement between you and your electric utility. Normally your electric meter spins forward as it measures how many kilowatt-hours of electricity you buy. A net energy metering agreement allows you to use the electricity you generate first, reducing what you would normally buy from your electric utility. If you generate more electricity than you use, the excess goes through your electric meter and into the grid, spinning your meter backward. Your meter records the net amount, measured as the difference between the electricity your system generates and the electricity you purchase from your electric utility.
Can a Solarize solar system power my home in the event of a power outage?
"Grid-tied" or interconnected solar PV systems typically do not have battery back-up systems. If a power outage occurs, your solar PV system will automatically shut down to protect utility workers. However, with recent advances in technology, we can offer a system above base price that can power part of your home when the sun is out and the power grid is down — all without batteries.
LEAP would like to thank Solarize Blacksburg, Community Housing Partners, and VA-Sun for sharing the content on this page and for their invaluable assistance in helping us to design this program.